Our research based product line provides rapid relief for stings of all classes of jellyfish including box jellies http://www.mdpi.com/2072-6651/9/3/105 .
Cream formulation product shelf life depends of storage conditions and is up to 18 months (when stored between 45o and 80oF). If products reach the expiration date printed on the label before use, return unused product for free replacement. If cream formulation products are exposed to high heat for prolonged periods, the color will change from blue/green or green to yellow or yellow/brown and is no longer fully active. The shelf life for spray formulations is 3 years when stored below 90oF.
For a quick purchase of one of our top selling products, there is now a single function PayPal BuyNow Button.
For standard purchases please see the product images below, each with an
Add To Cart button and the convenient Shopping Cart at the bottom of this page.
Contact Us Page-
Please email any questions or requests to receive the full Product and Price List.
USPS Priority Shipping on US Orders over $50
Many Oahu dive shops and ABC Stores carry StingNoMore® products (list below).
Announcing NEW EcoFriendly Glass Spray and Cream Dispensers!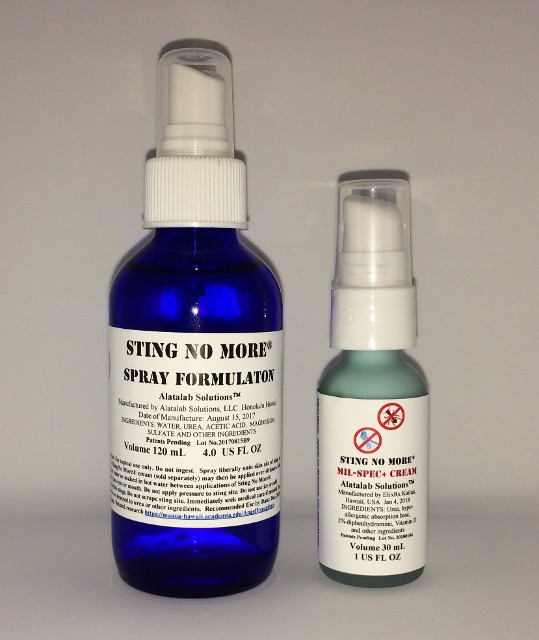 New airless pump for Mil-Spec+ Cream in 10, 15 and 30 ml Sizes! Increased cream shelf life in NEW non-messy, easy to dispense pumps.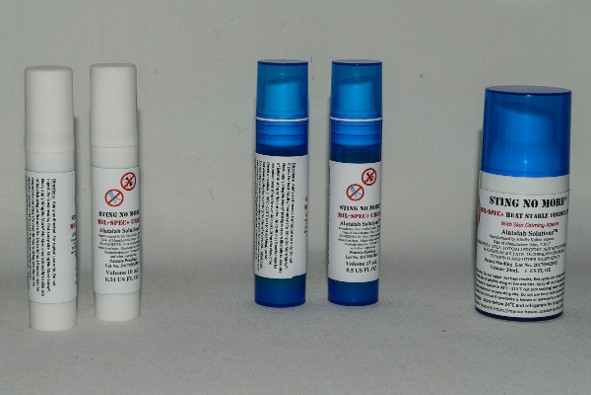 NEW
Sting No More® Beach Set:
1. 20 ml StingNoMore® Spray- To clean the site and inactivate stinging capsules 2. 10 ml StingNoMore® Cream pump- To speed relief to the sting site in a skin calming formulation
Sting No More® Pro Set:
Sting No More® Spray
Sting No More® Cream pump
Reusable 45oC HotPack (heat lasts for 45 minutes)
For quick single item purchases, here is a PayPal BuyNow link for our top selling items:
Oahu customers can also purchase StingNoMore® products at Breeze's Dive Shop,
Hanauma Bay Gift Shop, ElixRx Pharmacy and Aarons' Dive Shop in Kailua.
Also Select ABC Stores in Waikiki
ABC Store #12, 2522 Kalakaua Ave
ABC Store #14, 2456 Kalakaua Ave.
ABC Store #25 Pacific Beach Hotel, 2490 Kalakaua Ave #103
ABC Store #66 Park Shore Hotel, 2586 Kalakaua Ave
And Ko Olina
New* ABC #87 Ko Olina Island Country Markets 92-1048 Olani St. Suite 4-101
Directions:
1. Use StingNoMore® Spray to clean sting site and inactivate stinging cells then
2. Use Rapidly Absorbed StingNoMore® Cream for Sting Relief
Place Your Online Order on Product Page
Please note that Sting No More® Cream should be stored at room temperature or refrigerated until use. Unopened products in original condition may be returned within 2 months before or after the expiration date for new product replacement or full refund.
Sting No More® Spray is heat stable.