Welcome to StingNoMore!
Our research based product line provides rapid relief for stings of all classes of jellyfish including box jellies http://www.mdpi.com/2072-6651/9/3/105 .
For a quick purchase of one of our top selling products, there is now a single function PayPal BuyNow Button.
For standard purchases please see the product images below, each with an
Add To Cart button and the convenient View Cart button at the bottom of this page.
Contact Us Page-
Please email any questions or requests to receive the full Product and Price List.
USPS Priority Shipping on US Orders over $50
Many Oahu dive shops and ABC Stores carry StingNoMore® products (list below).
Announcing NEW airless pump for Mil-Spec+ Cream in 10, 15 and 30 ml Sizes! Increased cream shelf life in NEW non-messy, easy to dispense pumps .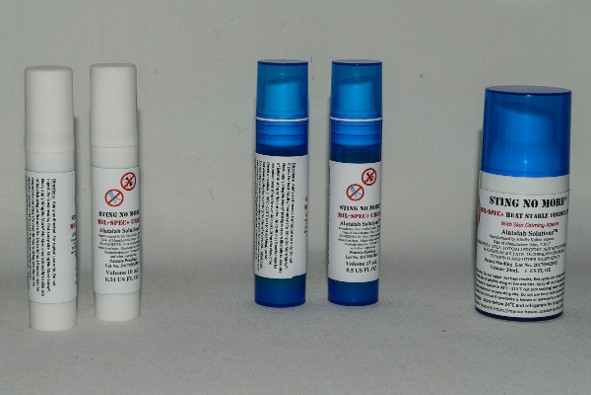 NEW
Sting No More® Bonus Beach Set:
1. 30 ml StingNoMore® Spray- To clean the site and inactivate stinging capsules 2. 10 ml StingNoMore® Cream pump- To speed relief to the sting site in a skin calming formulation
Sting No More® Pro Set:
Sting No More® Spray
Sting No More® Cream pump
Reusable 45oC HotPack (heat lasts for 45 minutes)
For quick single item purchases, here is a PayPal BuyNow link for our top selling items:
To purchase multiple items, please use the PayPal Carts below
Large Pro Kit $52.50 ( SKU 19077503)
60 ml StingNoMore® Spray
30 ml StingNoMore® MilSpec+ Cream Airless Pump
A Reusable 45oC HotPack that maintains safe heat for 45 minutes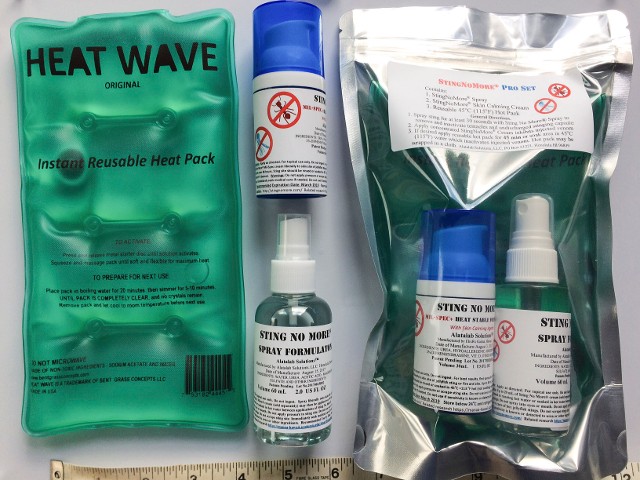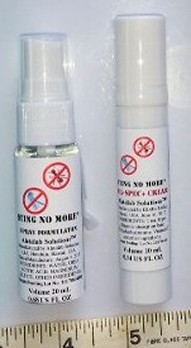 Life Guard Kit $42.50 ( SKU19257905)
8 U.S FL OZ ml StingNoMore® Spray
3-10 ml StingNoMore®MilSpec+ Cream airless pumps
StingNoMore® Sprays (Various Sizes)
NEW! Now available in 1, 2, 4, and 8 U.S. Fl. Oz sizes.

StingNoMore Spray is heat-stable and has a recommended expiration date after 5 years.
For Checkout, Click Below:
---
Oahu customers can also purchase StingNoMore® products at Breeze's Dive Shop,
Hanauma Bay Gift Shop, and Aarons' Dive Shop in Kailua.
Also Select ABC Stores in Waikiki (if in stock)
ABC Store #12, 2522 Kalakaua Ave
ABC Store #14, 2456 Kalakaua Ave.
ABC Store #25 Pacific Beach Hotel, 2490 Kalakaua Ave #103
ABC Store #66 Park Shore Hotel, 2586 Kalakaua Ave
Directions:
1. Use StingNoMore® Spray to clean sting site and inactivate stinging cells, then
2. Use Rapidly Absorbed StingNoMore® Cream for Sting Relief
Place Your Online Order on Product Page
Please note that Sting No More® Cream should be stored at room temperature or refrigerated until use. Unopened products in original condition may be returned within 2 months before or after the expiration date for new product replacement or full refund.
Sting No More® Spray is heat stable.