(Dec 2, 2017. Please note there is a technical issue with the On-line Web.Com purchase capablility. We apologize for this inconvenience and for their poor service support.)
To address this problem, a single function PayPal BuyNow Button as well as
Add To Cart buttons and Shopping Cart for certain items have been added at the bottom of this page.
The Contact Us Page does work. Please email any questions or requests to receive the full Product and Price List.
Thank you for your patience
Free upgrade to USPS Priority Shipping on US Orders over $50
Local Dive Shops and ABC Stores Sell StingNoMore® products (list below)
Announcing NEW airless pump for Mil-Spec+ Cream in 10, 15 and 30 ml Sizes! Increased cream shelf life in NEW non-messy, easy to dispense pumps.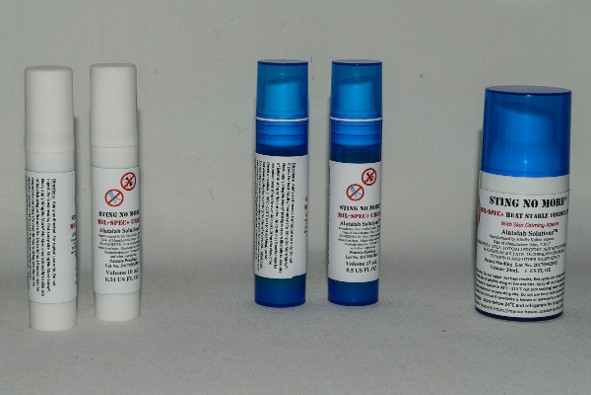 NEW
Sting No More® Bonus Beach Set:
1. 20 ml StingNoMore® Spray- To clean the site and inactivate stinging capsules 2. 10 ml StingNoMore® Cream pump- To speed relief to the sting site in a skin calming forumulation
Sting No More® Pro Set:
Sting No More® Spray
Sting No More® Cream pump
Reusable 45oC HotPack (heat lasts for 45 minutes)
For quick single item purchases, here is a PayPal BuyNow link for our top selling items:
Oahu customers can also purchase StingNoMore® products at Breeze's Dive Shop,
Hanauma Bay Gift Shop, ElixRx Pharmacy and Aarons' Dive Shop in Kailua.
Also Select ABC Stores in Waikiki
ABC Store #12, 2522 Kalakaua Ave
ABC Store #14, 2456 Kalakaua Ave.
ABC Store #25 Pacific Beach Hotel, 2490 Kalakaua Ave #103
ABC Store #66 Park Shore Hotel, 2586 Kalakaua Ave
And Ko Olina
New* ABC #87 Ko Olina Island Country Markets 92-1048 Olani St. Suite 4-101
Directions:
1. Use StingNoMore® Spray to clean sting site and inactivate stinging cells then
2. Use Rapidly Absorbed StingNoMore® Cream for Sting Relief
Place Your Online Order on Product Page
Please note that Sting No More® Cream should be stored at room temperature or refrigerated until use. Unopened products in original condition may be returned within 2 months before or after the expiration date for new product replacement or full refund.
Sting No More® Spray is heat stable.